The International Academy of Spiritual Sciences and Metaphysics offers students a 30-month course in parapsychology and spiritual therapy in Hungary, States of America, Great Britain, Argentine, Panama, Costa Rica, Hungary, Slovakia, Czech Republic, Romania. The course is consistent in all locations and follows an accredited syllabus. Students who successfully complete the course and pass the final exam will receive a certificate acknowledged by and in accordance with the laws of their country.
One weekend a month, our instructors welcome students at a designated location to guide them with both theoretical and practical knowledge along their paths. These instructors are experts in their field, renowned energy healers, and recognized naturopaths. Our program is based on the system developed by Katalin Szabó, the founder of the Academy, concentrating her 30 plus years of experience into a 30 month program. The course assists students in their spiritual and intellectual progress and, by developing a healthy sense of self-awareness and self-image, the students raise their vibration frequency as well as their level of consciousness.
Beside a high level of theoretical knowledge, our program utilizes a practical approach. The self-awareness, spirituality, energetics, spiritual therapy, and natural healing techniques taught during the course of the program develop skills that can be easily applied to daily practice. Our students use various methods to study and experience the subtle energy of the soul and the spirit. By balancing these energies, they learn to heal themselves. They discover the connection between their mind and body. The techniques they learn assist them in shaping the balance of their body, mind, and soul. This enables them to return to their natural state of health. Living in complete acceptance, forgiveness, unconditional love, and a sense of responsibility toward the universe, our alumni heal their general surroundings and many even become healers themselves.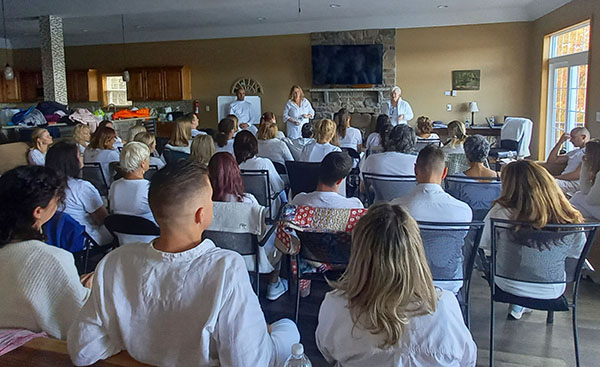 The following topics will be highlighted during the instruction:
"If your life does not grant happiness to others, how can you expect your heart to grant you happiness?"
"The secret of peace is to keep the mind from passing judgment over the heart."
"What is important is not what happens to you, but how you receive that. If you are brave enough to embrace failure, you will definitely reap success."
"It is a primal need of every human to love and be loved. This is how we are capable of feeling the love of another and how we are able to unfold the possibilities hidden within ourselves. Without this, we are often simply struggling to survive."
"Do you notice happiness when you have no reason to be sad? We always wait for our ultimate happiness, but the little joys in life surround us. All we need to do is reach out for them."